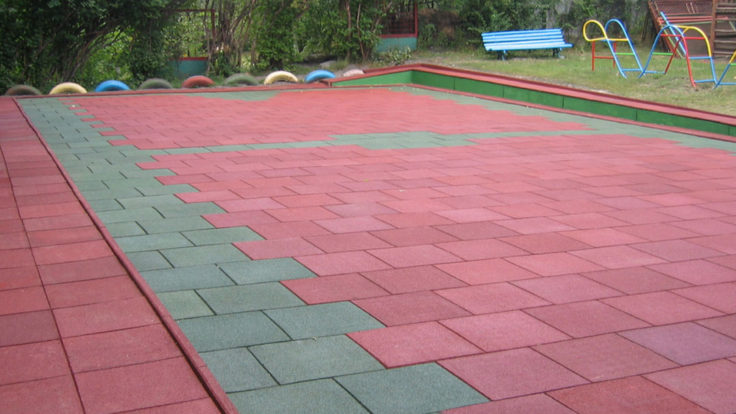 Are you tired of burning your feet on hot pavers? Is a slippery surface keeping you from enjoying your pool? Sounds like someone needs some outdoor rubber. Our outdoor rubber tiles and pavers are the perfect alternative to standard tile and stone for outdoor decks, pools, patios, and playgrounds. These rubber patio pavers are available in several styles, colors, and thicknesses and are cooler and more slip resistant when wet. So start enjoying your new patio, deck, pool, or playground with our outdoor rubber pavers.
1.Great compression strength, impact resistance, big friction coefficient, big elasticity, damping non-slip, strong protection performance.
2. Weather resistance, good heat resistance, good UV resistance, could be used any different areas between -40℃ to 100℃.
3. Waterproof performance, surface be easily to cleaned, good maintenance
4. Insulation, heat insulation, sound insulation, anti-static, flame retardance (can self-extinguishing), big safety factor.
5. Non-toxic, no stimulation to human body, no pollution, quakeproof, no breed microbes
6. Specifications diversely, rich colors, not reflective, beautiful finishes, a variety of patterns can be freely combined.
7. Construction of convenience, can be laid by adhesive bonding , also could be laid directly.
8. This product overcomes the disadvantages of various hard floor tiles , it allows the users in walking and activities are always in a safe and comfortable physical and mental state, relax & comfortable. The gyms which used our products, not only can let players exert best skills, but also could reduce the risk of harmful which caused by jump & other sports equipments. Lay our products places which most participator are aged people and young people,can protect them well too.
9. gyms: sports gym, pingpong room, kindergarten,fitness room, amusement park, entertainment center for aged people, park, residence community, outdoor activities square, shoresides of swimming pool.
Outdoor Rubber Flooring Gallery