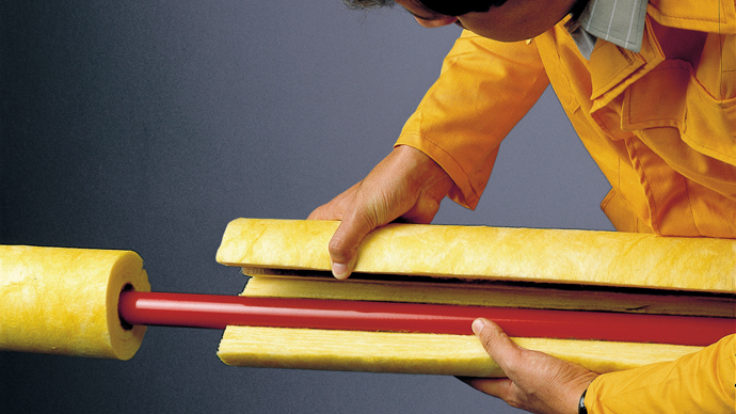 Glasswool Prefabricated Pipe Details
These are pipes produced from high unit weight fiberglass for thermal and sound insulation of pipes that are used for sound and thermal insulation.
Types that are covered with aluminium foil are also available.
The fiberglasss being placed in the centrifugal order provide the ODE Starflex prefabricated pipes high
mechanical endurance and resistance against vibrations.
When exposed to higher temperatures than the normal temperature range, exothermic reaction was
not present.
Thermal conductivity value of the pipe undergoes to change only in a small amount with the increase of
the temperature.
It does not change dimension with heat, there is no loose of volume.
It is neither hygroscopic nor capillary.
It does not fall off, decays or causes corrosion on the pipes in time.
Perspiration and condensation is prevented by aluminium foil covered glasswool pipes in the insulation
of cool pipes.
Advantages
One side being cut lengthways causes get through the pipes to be insulated easily and the insulation
of the pipe line is provided in a very short period of time.
It does not loose its wall thickness with the other material that will be covered on it as the density is high.
In the applications covered with aluminium foil, self adhesive bands provide savings in time, material and labor.
Ode Starflex pipes do not have loss during application, all parts can be utilized.
With the glasswool, the transmission of noise and vibration to other places is prevented.
In case of maintenance or a breakdown in the system, it can easily be taken off and afterwards can be
put back with no damage given to the system.
Areas of Usage
Radiator and central heating systems
Solar energy systems
Protection of pipes from perspiration and frost
Against sound and vibration in pressure water pipes and in many other mechanical and industrial systems.
Application Details
Ode Starflex Prefabricated Pipe packages shall be kept perpendicularly and away from humidity.
Aluminium foil covered types shall be used in cooling systems.
In the preference of insulation thickness, it is recommended that the exterior surface temperature
to be maximum 40°.
Minimum insulation thicknesses recommended according to the system can be found below.
MINIMUM INSULATION THICKNESSES OF
HEATING HVAC APPLICATION
Pipe Ambient
Temperature°C
Inner Diameter (The outer diameter of the pipe to be coated) mm
15
21
27
33
42
48
60
76
89
114
140
169
219
273
Recommended Pipe Wall Thicknesses (mm)
100°C
25
25
30
40
40
40
50
50
50
50
60
60
60
60
200°C
40
50
50
50
50
50
60
80
80
80
80
80
80
80
300°C
50
60
60
60
60
60
80
100
100
100
100
100
100
MINIMUM INSULATION THICKNESSES OF
COOLING HVAC APPLICATION
Ambient Pipe Temperature °C
Relative Humidity of 60%
Pipe diameter (inches)
Insulation thickness (mm)
(-18°C)-(+1°C)
up to 1
50
1 1/4 -10
60
5-10
80
(+2°C)-(+9°C)
up to 2
40
2 1/2 -10
50
(+10°C)-(+21°C)
up to 3/4
30
1-10
40
Technical Specifications
| | |
| --- | --- |
| Thermal Conductivity Coefficient | 0,040 W/mK |
| Density | 60-100 kg/m3 |
| Fire Classification | TS EN 13501-1 A Class |
| Water Vapor Diffusion Resistance Coefficient | µ=1,1 |
| Diameter | 1/4" – 14" |
| Thickness | 25-100 mm |
| Lamination Type | Aluminium Foil Covered |
Glasswool Prefabricated Pipe Gallery